If auto delete is turned on, candidate will be deleted when their expiration date is exceeded. It is managed according to the rules set up in Company Settings.
For a candidate to be included in the deletion, the expiration date must be set to a candidate profile. This will happen automatically for new candidate created after a number of Default Expiry days have been set in Company Settings.
Existing candidate must be manually set with an expiry date. This is most easily down in the People list, where you can select a number of people and click "Edit Expiration Date"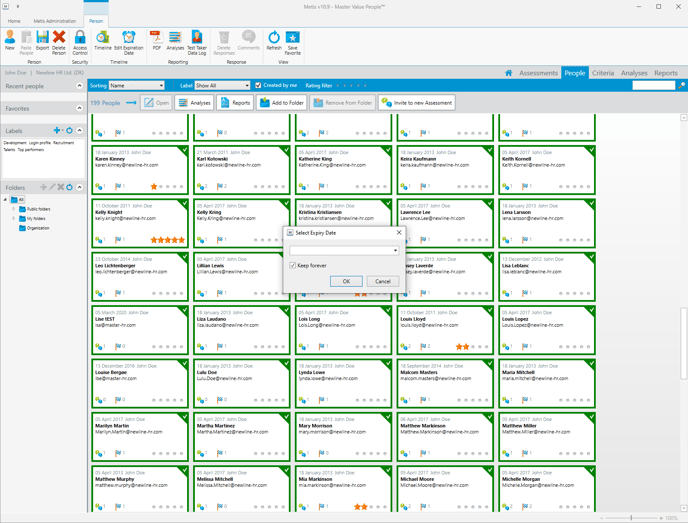 A little tip: Sort the list by "Date, new first", then all candidates will come up in order with the latest ones first. Then it is easier to see who were the "oldest candidates".
If automatic deletion is NOT desired (in Company Settings), expiry dates can still be used. Then you just get notified on Metis Start Page that you have some people to delete. It will be visible in the "Notifications" box.
At the top of the Metis Administration there is also a menu item called "Person Data Cleanup" where it is possible to delete, postpone the expiration date or deselect the expiration date of the selected persons.
In addition, you can of course still manually delete the person list. Select the people to delete and click the delete button in the menu. Here, the little tip from the time of sorting the list can also be used advantageously.
Data should be deleted when they are no longer needed, but as a rule of thumb that is currently 6 month according to GDPR recommendations.